Any Craps Bet
Any craps, also known as Three Way, is a type of bet where the player wagers that the shooter will roll a 2, 3 or 12. These numbers are known as "craps" and they appear quite infrequently and have a low probability of winning. Basically, if the dice lands on either 2, 3 or 12, the player will win on any of these numbers. This is actually one of the more popular proposition bets.
The actual odds of winning on an any craps bet is 8:1. The house pays out 7:1 odds, which makes the house edge 11.11%. This is a fairly large edge, which is usually expected with the proposition bets. Not all casinos use these same odds or the rules for this bet either.
I displayed a screenshot of the any craps bet below so you can see where it is located on the table layout. Note that not all casinos use the same rules. Wild Jack casino for example pays out 8 For 1 odds (which is now the same as true odds, but instead 7:1 odds) on the any craps wager. Also, if you click on the image below, you can play at this same game table powered by Flash.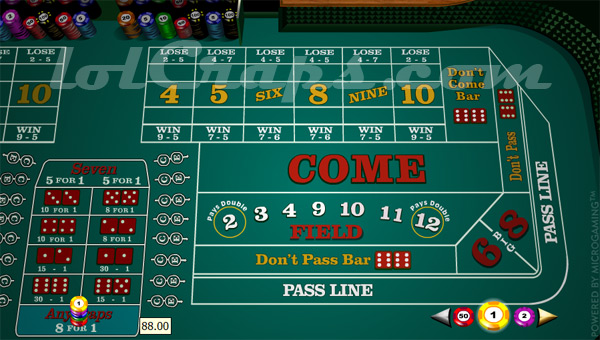 Click on the image above to instantly practice and play free craps in your browser.
(Opens in separate window in full screen.)