Free Flash Craps
Craps is just one of those dice games that players need to practice at in order to become good at it. There is a reason why craps is such a fun game to play, especially in a casino. Craps is the one game in the casino with the lowest house edge and the only one that has true odds in certain bets. A free flash version of this game can be played so that you can learn the rules.
No Download Online Craps
If you would like to play free craps right now, just click on the image below. A new browser window will open up and you will be able to instantly play craps within seconds. The graphics are amazing and this game can either be operated using flash, macromedia and shockwave if those are installed. This online craps game uses Microgaming technology and will be played in full screen. Not only can you play craps for free, you can also deposit money and play for real cash as well if you like to gamble.
Free craps can be played at Wild Jack casino and All Slots casino, which also uses the Micrograming platform. The game below requires no download and no software is needed to be installed on your computer. There are other free flash craps games around that use Realtime Gaming and Playtech casino platforms as well. When you open the game up below, you not only have craps games available, but also blackjack, slots and tons more. It's one awesome flash casino and it's free.
Now you can practice being the shooter and study some of the strategies offered here in our articles. You may not know it, but craps is sometimes known as "hazard", or an old English dice game. So if you know the game by this name, its basically the same one. The same also goes for one of it's other well known name: "crabs". If you are international, you may recognize these names.
A word of advice is to remember the basic strategy involved. If you haven't already read our strategy guide, you should do so. Otherwise recall that a come out roll of a seven is most common and the rolls of 2 and 12 (snake eyes and box cars) are the least common combination. So if you are ready to practice the strategy or you just came across this site and want to play some quick craps games then hit up the image below to open the free flash window.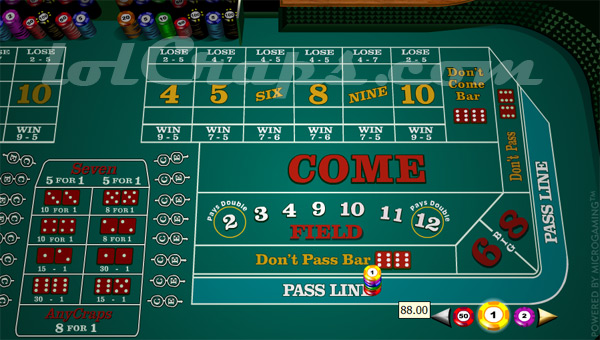 Click image above to open up Flash Craps in a full screen casino in your browser.
(Opens in separate window in full screen.)
* As of 2023, US players are unable to play the craps game listed above. US players please click the banners on the left side (or below for mobile users) to visit free and real-money craps games at US-friendly casinos.