Big 6 Bet - Big 8 Bet
Big six and big eight are two of the popular craps bets. As you can see on the craps table, they stick out because of their large numbers and prominence on the board, so it catches the attention of people. Really though, this bet is pretty simple yet it does not have really great odds. Basically when you bet on big 6 for example, you are wagering that the shooter will roll any six before a seven is rolled. The same thing goes with big 8 except you want the shooter to roll an eight before a seven.
The actual odds of winning on these two bets are 6:5 and the payout odds are 1:1. This makes for a fairly large house edge of 9.09%. Basically, the larger the house edge is, the more money you are going to lose over the long run since this edge is the casino's profit margin. To be realistic, there are much better wagers that you can make on the craps table. This bet for example tends to attract people who do not know this complicated game very well since it looks simple.
I displayed a screenshot below of the big 6 and big 8 in order to illustrate where these are located on the craps table. I put a stack of chips on the big 6 and another stack on the big eight in the bottom right side of the image. You can actually practice on this same table by clicking the image. A Flash casino craps table will open up in your browser, making it perfect for free practice.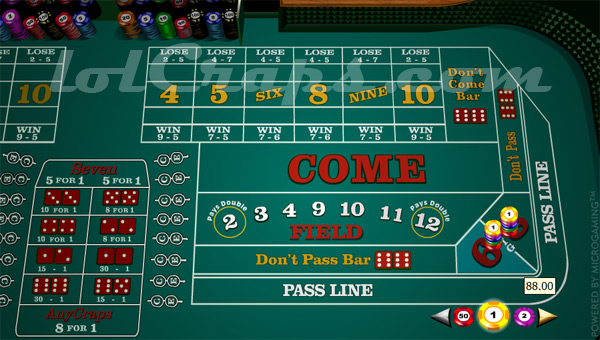 Click on the image above to instantly practice and play free craps in your browser.
(Opens in separate window in full screen.)
* As of 2023, US players are unable to play the craps game listed above. US players please click the banners on the left side (or below for mobile users) to visit free and real-money craps games at US-friendly casinos.