12 - Boxcars Bet - Midnight - Cornrows
Boxcars, also known as Midnight, Cornrows or Twelve Craps, is a bet where players wager on the shooter rolling a 12. This consists of a six on each dice. The way the dots are arranged on the dice, it looks like a rectangular box (like a box car) or rows of corn, which is how some of the names originated. Midnight got its name because 12 o'clock is the same as midnight.
This is one of the more popular bets and one of the hardest to win. There is only one combination in all the outcomes of the dice that result in rolling a 12, so the odds are 1 in 36 (35:1). The payouts are only 30:1 or $30 for every $1 wagered. Because of this, the house edge is a hefty 13.89%, which is bad news for the player since the casino takes away more money and more frequently because of this huge profit margin.
The high house advantage means that you will lose greatly in the long run, but the payouts are very nice in the short term. This bet is great for players who are feeling lucky and want to take a proposition wager on it. I included a picture of where this bet is located on the craps layout in the center of the table. It is located inside the proposition betting box located in the center of the table, which contains bets with high payouts (and large house edges). I would not recommend the boxcar bet over the long term because of the bad mathematical odds and since you being paid much less than you should, but the payouts are huge if you get lucky.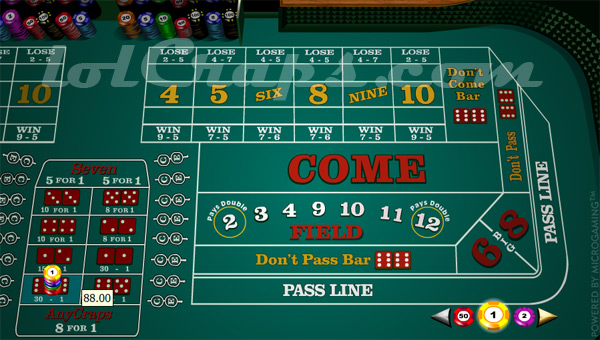 Click on the image above to instantly practice and play free craps in your browser.
(Opens in separate window in full screen.)
* As of 2023, US players are unable to play the craps game listed above. US players please click the banners on the left side (or below for mobile users) to visit free and real-money craps games at US-friendly casinos.