2 - Snake Eyes Craps Bet - Aces
Snake eyes is a name for a roll of a two. Also known as Aces or Two Craps is also the same thing as snake eyes since each die will have the number 1 displayed which adds up to two. Also, the name snake eyes probably got its name because the two dots look like eyes sort of. This is also one of the hardest rolls and the most infrequent roll possible besides a 12. Though if you are betting on this and the shooter rolls a 2, the payouts are huge.
The actual odds of the shooter throwing aces is 1 in 36 (35:1) and the payout is actually 30:1. There is a huge difference between the two odds so the house edge is enormous at 13.89%, making this one of the worst bets on the craps table. Also, this bet is located on the proposition bets area of the craps table layout. These proposition bets usually have bad odds and large house edge.
The picture below shows where this is on the craps layout. Usually this kind of bet is reserved for people who are feeling lucky since the mathematical odds are pretty bad in the long run in favor of the casino. If you would like to practice on this bet, click on the screenshot below to play on this same table in a Flash craps game. Remember, this is a single roll bet. So you are wagering that the very next roll is going to be a two, otherwise you lose the bet.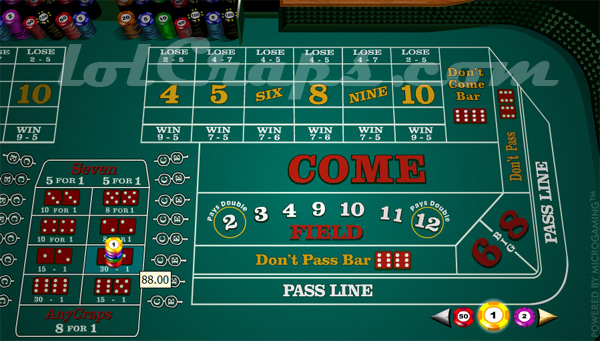 Click on the image above to instantly practice and play free craps in your browser.
(Opens in separate window in full screen.)
* As of 2023, US players are unable to play the craps game listed above. US players please click the banners on the left side (or below for mobile users) to visit free and real-money craps games at US-friendly casinos.