Pass / Come Free Odds Bet
This is the most powerful bet in all of craps. In order to play the free odds bet, you must have wagered on the pass line bet or the come bet. If the shooter has not rolled a craps number (2, 3, or 12) or a 7 or 11, then there must be a point number established (4, 5, 6, 8, 9, or 10). Once the point has been established, players can have access to the pass odds bet or come odds bet (also just known as free odds).
Players may wager on the free odds bet in multiples of their original pass/come bet amount. Most casinos allow multiples of 1x, 2x, or 3x. Casinos in Las Vegas for example will allow players to wager 10x, 50x and even 100x odds bets. The rule of thumb is this: The more money you bet on the odds bet, the lower the house edge becomes in your overall pass/come bet that you originally made.
The odds bet itself pays out true odds, meaning there is a 0% (yes zero) house edge. There is not a single game you will ever find at the casino that will offer no house edge. It is as if you are betting head or tails on the flip of a coin. This means totally fair odds. This bet wins when the shooter rolls the point number before a 7.
Remember, the number 7 is the most frequently rolled number. Then 6 and 8 are the next two frequent, followed by 9 and 5, then 4 and 10 with the least frequent of the point numbers. The 6 and 8 pay out 6:5 or $6 for every $5 wagered. 5 and 9 pay out 3:2. 4 and 10 pay out 2:1 odds. Note that these payouts are only for the odds bet. The original Pass/Come line bet will still be paid 1:1 if it wins.
I will explain the bet using the image below. First I made a pass line bet and the shooter rolled a 4 on the come out roll. The number 4 become the point number (noted by the puck that now says "ON"). Then the dealer moved my chips up to that area of the layout and I made a 1x multiplier free odds bet (so there are two $88 chip stacks now), which gets placed right next to the chips that the dealer moved up there. I will win both bets if the dealer rolls another 4.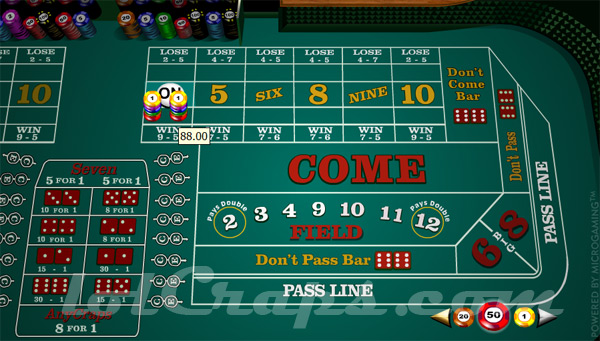 Click on the image above to instantly practice and play free craps in your browser.
(Opens in separate window in full screen.)
* As of 2023, US players are unable to play the craps game listed above. US players please click the banners on the left side (or below for mobile users) to visit free and real-money craps games at US-friendly casinos.