11 - Yo Bet in Craps
The Yo bet is just another name for betting on the craps shooter to roll an 11. The dice will always consist of a 5 and 6. The odds of rolling a yo are the same as rolling a 3 (ace deuce). Rolling an 11 is the second most infrequent number to come up but it has some big winnings and payouts if the player does happen to bet and win using this wager.
The odds of rolling a yo is actually 2 in 36 (17:1). Yet the house pays out odds of 15:1, which leaves a big house edge of 11.11%. This high edge is undesirable because the player loses more money and more frequently since the house takes a bigger cut of the profit over the long term. This is why the eleven bet is usually reserved for players who are "feeling lucky" and can wager it as a proposition bet. The payouts are still nice in the short term at $15 for every $1 wagered.
I included a screenshot below that shows where the yo betting area is located on the craps table layout. It is part of the proposition box at the center of the table, which usually includes rolls that are hard to get along with high payouts (and high house edges). Note that when you bet on rolling a yo, you are betting on the very next roll being an 11 since this is a single roll wager. You will lose the bet if the shooter does not roll 11 on the very next roll.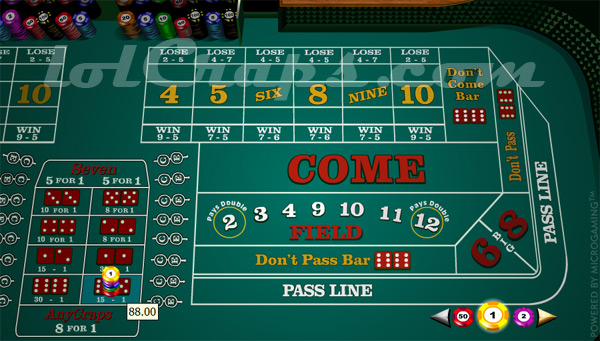 Click on the image above to instantly practice and play free craps in your browser.
(Opens in separate window in full screen.)
* As of 2023, US players are unable to play the craps game listed above. US players please click the banners on the left side (or below for mobile users) to visit free and real-money craps games at US-friendly casinos.