On the Hop Bet
On the Hop is a complex craps bet and it is not located on the table. In fact, this is a "secret" bet that can let players win a lot more money than usual. Basically, this bet is almost the same as the Hard Way bet and Easy Way bet. The only difference is you get paid much more money than with the more common hard and easy way bets. Note that this is a single roll bet, which is also the difference between hard way and easy way craps bets.
Basically, an "on the hop" craps bet is wagered when you want the shooter to roll a specific combination of the dice. For example, you can bet that the dice will be rolled and land on (4,1). This would be the same as an easy or soft 5. To make this bet in a casino, just tell the dealer your bet: "4 and 1 on the hop". For this kind of bet, there are two combinations that can be rolled, so the odds of rolling this are 17:1 and the payout odds are 15:1, which makes the house edge 11.11%. Note that this is the same for any kind of "soft" or easy way combination of the dice.
Rather than wagering on double numbers on the hard way bet, you can wager them "on the hop" instead. For example, the dice combination (4,4) would be the same thing as a hard eight, which would usually pay out 9:1. If you said you wanted to bet "4 and 4 on the hop" instead, you would have won 30:1 odds! This is actually fair because there is only one combination for each double or hard number. The actual odds of rolling any hard number such as snake eyes, boxcars, hard 4, 6, 8 and 10 is 35:1. Still, the house edge is 13.89%
In one way this is a "secret" bet because there are too many combinations of possible wagers to list them all on the craps table layout. Still, the house edge is not that ideal and is actually pretty bad compared to many other possible bets.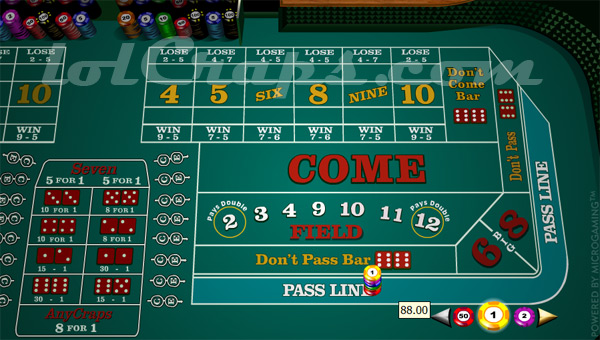 Click on the image above to instantly practice and play free craps in your browser.
(Opens in separate window in full screen.)
* As of 2023, US players are unable to play the craps game listed above. US players please click the banners on the left side (or below for mobile users) to visit free and real-money craps games at US-friendly casinos.