Easy Way Bet
The easy way bet is very similar to the hard way bet. Basically you are wagering on a specific number, except there are easier ways of throwing the number because of the large number of possible combinations. For instance, if you wanted to bet "easy way 6", you could win this bet by rolling a 1 and 5 as well as a 2 and 4. The hard way 6 would require players to roll a 3 and 3, which only has one combination.
The disadvantage of using the easy way bet is the fact that the payouts are much less. This is fair since it is easier to roll these combinations. Another problem with this bet is you will not find it very often at casinos or at online casinos. You could ask the dealer if this bet is available since they should know what to do. About the only way you can bet on it is by placing a wager on a point number.
Also, you can bet on the hop if you would like to wager on "easy way" types of numbers. The only difference is the hop bet only applies to single rolls. That means you must roll the number in a single roll or lose the whole bet. The easy way bet is a multi-roll wager, so the shooter must either roll the wagered number in order to win before rolling a seven. The player loses the bet if a seven is rolled.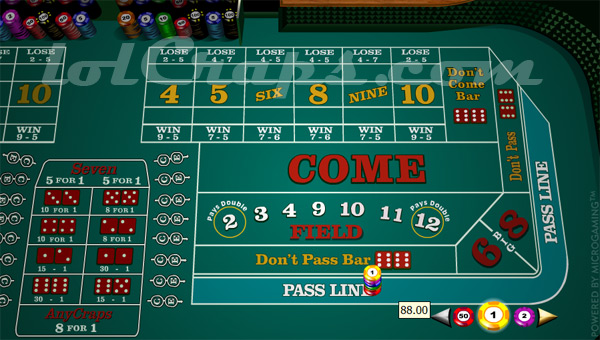 Click on the image above to instantly practice and play free craps in your browser.
(Opens in separate window in full screen.)
* As of 2023, US players are unable to play the craps game listed above. US players please click the banners on the left side (or below for mobile users) to visit free and real-money craps games at US-friendly casinos.