Field Bet
The field bet is another one of the most common and popular craps bets. It also has fairly good odds as well so players could benefit from this bet. Basically, all you are betting on is that the shooter will roll a 2, 3, 4, 9, 10, 11 or 12. The player wins the bet if the dice lands on any of these numbers. Players can actually have fun with this bet as I will explain later as well as different payouts for different numbers.
First of all, the actual odds of winning this bet are 5:4. The payouts are even (1:1) when the shooter rolls a 3, 4, 9, 10 or 11. The payouts are 2:1 when they roll a 2 or 12 (snake eyes or boxcars). Although, some casinos will be generous enough to pay out 3:1 odds on these two numbers if they win on the field bet. Overall, the house edge is 5.56% on the field bet. The house edge can be as low as 2.78% if the casino is enforcing the 3:1 payouts, which is actually nearly twice as good for the player since they will not lose as much money over the long run.
The field bet is known as a "self-service" type of bet. Player can actually move the chips onto the field portion of the layout themselves without the stickman or dealers doing it for them. If you win the bet, the dealer will award you the chips and you are to collect them yourself, hence "self-service". If you do not collect them immediately, the dealer will assume that you are going to let the bet ride or "let em ride", which is basically betting your original bet plus all of your winnings on the next roll of the dice.
I included a screenshot of the field bet below so you can get an idea of where it is located on the table. Note that if you click on the image, you can practice craps and this bet using the Flash craps game. Remember, this is a single roll bet. So when the shooter rolls the dice, you will either win or lose and the bet will not continue onto further rolls.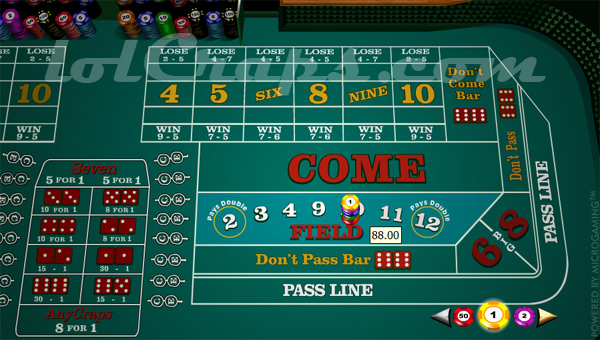 Click on the image above to instantly practice and play free craps in your browser.
(Opens in separate window in full screen.)
* As of 2023, US players are unable to play the craps game listed above. US players please click the banners on the left side (or below for mobile users) to visit free and real-money craps games at US-friendly casinos.