The Craps Horn Bet
The horn bet is actually a combination of different bets. In fact, a player who is betting on the horn is wagering that the shooter will roll a 2, 3, 11 or 12. These are the hardest and infrequent numbers to roll in craps. Basically, you will win the bet if the dice lands on any of these four numbers. This is actually a popular bet that is included as part of the proposition bets. Essentially, this bet includes snake eyes, boxcars, yo and ace-deuce.
The actual odds of winning the horn bet are 5:1. The payout odds are a little more complicated though. Typically, the house pays 27:4 if the shooter rolls a 2 or 12, and the house pays 3:1 odds if a 3 or 11 is rolled. This shows that the odds are slightly different than if you wagered on these other bets individually. In the end, the overall house edge is 12.5%, which is not spectacular at all to begin with, even though this sounds like a special arcane bet.
I tried to display a screenshot to explain where to place this bet on the table. Unfortunately, not all casinos will have this bet displayed, including this one. I put $88 worth of chips on each of the numbers involved in this bet. In a casino where this is displayed on the table, you would see a spot that says "Horn" in the intersection corner of all four of these spots that I have chips on. Then you should just put $88 on that spot. If you are playing at a land based casino and the "Horn" area is not indicated on the table, you can usually tell the dealer that you would like to make a horn bet and they will put your chips in the intersection of these four areas right in the middle.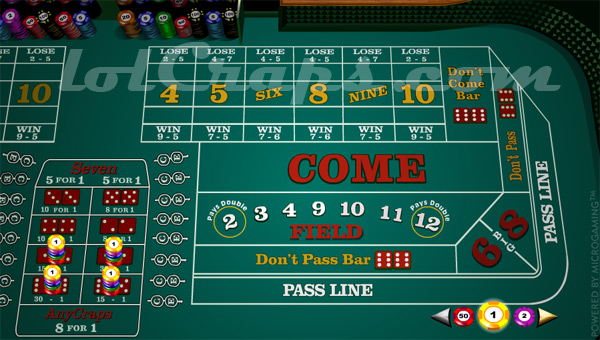 Click on the image above to instantly practice and play free craps in your browser.
(Opens in separate window in full screen.)
* As of 2023, US players are unable to play the craps game listed above. US players please click the banners on the left side (or below for mobile users) to visit free and real-money craps games at US-friendly casinos.